English
The Atomic Collision Society of Japan (ACSJ)
The Atomic Collision Society of Japan (ACSJ) is an academic organization established in 1976 with a history more than 40 years. The aim of ACSJ is the promotion of research on atomic collisions and related fields in Japan, as well as facilitating international exchange and contributing to academic and cultural development. Originally, this society was established as Atomic Collision Research Association, and the name was changed to the Atomic Collision Society in 2012 in order to clarify the spirit of establishment and contribution as an academic organization.
As of 2020, the society has approximately 300 members, engaged in scientific fields covering:
atomic collisions,
atomic and molecular physics,
astronomy and astrophysics,
radiation chemistry,
radiation physics,
laser physics,
synchrotron radiation,
quantum optics and electronics,
atomic collisions in solids,
molecular beams,
chemical reaction,
interdisciplinary research related to nuclear physics,
exotic atoms and molecules containing positron / muon / antiproton,
plasma physics,
ultrasonic waves / shock waves,
discharge phenomena,
biological / medical applications, etc.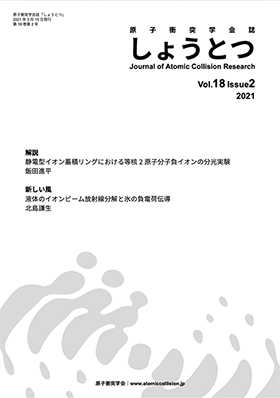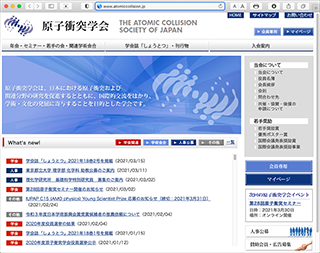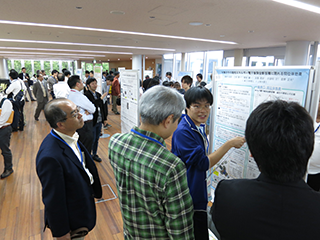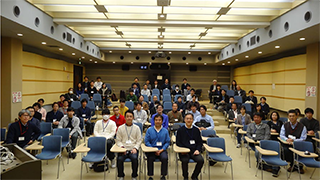 Our activities are:
1) issuing a periodical electronic academic journal in Japanese, "SHOTOTSU"
(a Japanese word meaning "collision")
The contents include:
Original review articles
Announcements of seminars and conferences
Job information
Introduction of new members
2) delivering information on conferences, workshops and seminars
as well as job offers for researchers in the relevant fields
3) holding regular academic research meetings: annual meetings in summer
and atomic collision seminars for young scientists and students in spring
Annual meetings for the last 10 years were held at
University of Electro-Communications (Chofu)
Kyoto University (Uji)
Sophia University (Tokyo)
Toyama University (Toyama)
Tokyo Metropolitan University (Tokyo)
Tohoku University (Sendai)
RIKEN (Wako)
University of Electro-Communications (Chofu)
Niigata University (Niigata)
Nara Women's University (Nara)
Atomic Collision seminars for young researchers in recent years were held at
University of Electro-Communications
RIKEN
The University of Tokyo
Nihon University
Rikkyo University
University of Electro-Communications
Tokyo Metropolitan University
Tokyo Institute of Technology
Tokyo University of Science
Sophia University
4) encouraging young researchers: The Young Scientist Award
Winners for the last 10 years are:
2021: Kensei KITAJIMA(Hokkaido University)
"Study on radiation physics and chemistry of liquid-phase molecules induced by ion beams"
2020: Yuya MORIMOTO (Friedlich Alexander University)
"Development of electron-beam control technology and its application to attosecond imaging"
2019: Shinsuke HAZE (Ulm University)
"Research on ultracold collisions in ion-atom mixture systems"
2019: Koichiro YAMAKAWA (JAERI)
"Spectroscopic study of ro-vibration and nuclear spin conversion of molecules in condensed matter"
2018: Hiroshi IWAYAMA (Institute for Molecular Science)
"Research on photo-absorption and relaxation processes of noble-gas clusters in ultraviolet free-electron laser"
2017: Hiroki NAGAHAMA (The University of Tokyo)
"High-precision measurement of fundamental physical constants of antiproton"
2016: Tetsuya HAMA (Hokkaido University)
"Experimental research on photo dissociation and desorption of low-temperature H2O ice"
2015: Yugo NAGATA (Tokyo University of Agriculture and Technology)
"Research on antihydrogen beam"
2015: Kosaku KATO (Osaka University)
"Interaction of intense laser field with atoms and molecules explored by high-harmonic generation"
2013: Koji MICHISHIO (Tokyo University of Science)
"Photodetachment of negative positronium ions and its application to positronium beam production"
2012: Tomoya MIZUNO (KEK)
"Research on molecular dissociation processes in charge-exchange collisions with fast heavy ions"
5) hosting and assisting to organize international conferences:
ICPEAC International Conference on Photonic, Electronic and Atomic Collisions
AISAMP Asian International Seminar on Atomic and Molecular Physics
ISSS International Symposium on Surface Science
AMPP Japan-China-Korea Joint Seminar on Atomic and Molecular Processes in Plasma
etc.
President (2022–)
Hajime Tanuma (Tokyo Metropolitan University)
Executive committees (2022–)
Editorial : chaired by Takuya Majima (Kyoto University)
Meeting and seminar organization : chaired by Tatsuo Kaneyasu (SAGA-LS)
Public relations : chaired by Yasuhiro Sakai (Toho University)
Selection of award winners : chaired by Yasushi Kino (Tohoku University)
General affairs : chaired by Shiro Matoba (KEK IMSS)